The Ombre Powder Brows method is great for all skin types and clients of every age, heals very soft and natural. This technique gives a "filled-in" eyebrows effect and is less invasive than other methods.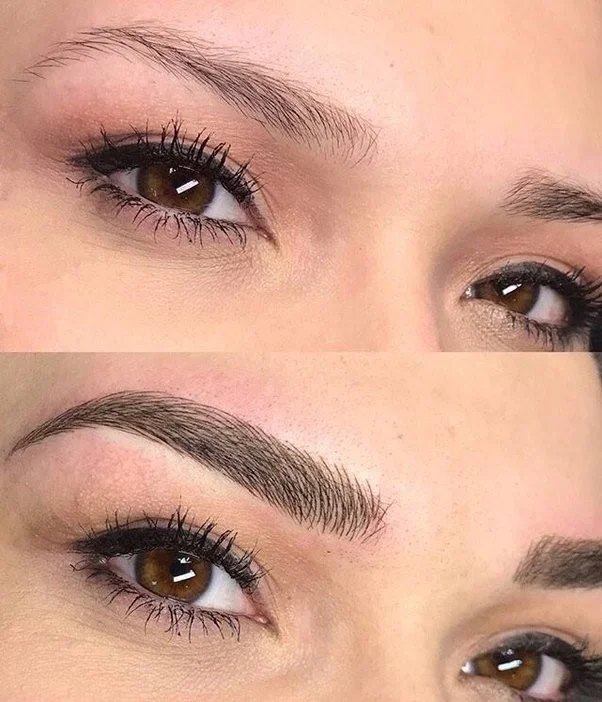 Ombre Powder Eyebrows are a semi permanent procedure. This technique is used to create an illusion of fuller and defined brows. This is suitable for all types of skin including: oily, combination, and dry skin. You can achieve a natural/soft or bold/makeup filled in look with this technique. Shape is based on your natural hair flow and brow bone structure to give the best natural shape. This is a two step process, which means a touch up is highly recommended 6-8 weeks after the initial appointment to go over any lighter missing spots that didn't take the ink and to go darker/thicker if necessary. Lasts at least 2-3 years or longer depending on skin type and life style. You can come back annually after that for a color boost.
Pricing Ombre
Powder Brows
Touchups For Returning Clients
*After 3 Years is considered a New Brow
see also Lip
blush service
Lip blush is a semi permanent lip tattoo that enhances and defined your lips by adding color and a fuller appearance. Perfect if you use lipstick or lip liner most days. This can also be done to neutralize or lighten darker lips for a lip correction or to cover old permanent makeup. Color will be customized based on clients preference. Lasts 2-3 years with a touch up done 6-8 weeks after initial appointment. Annual touch ups are recommended.